Duke of Edinburgh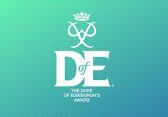 The Duke of Edinburgh's Award (commonly abbreviated to DofE) is a programme of activities that can be undertaken by anyone agreed 14 to 24 regardless of personal ability. DofE programmes can, on average, take between 1 - 2 years to complete depending on the route taken. All programmes must be completed by the participants 25th birthday. Around 275,000 participants are taking part in their DofE Programme at any time in the United Kingdom.
The concept of DofE is simple – anyone aged between 14 and 24 can do a programme at one of the three progressive levels which, when successfully completed, lead to a Bronze, Silver or Gold Duke of Edinburgh's Award.
There are four sections at Bronze and Silver level and five at Gold. With assistance from adult Leaders, participants select and set objectives in each of the following areas:
Volunteering : undertaking service to individuals or the community
Physical : improving in an area of sport, dance or fitness activities
Skills : developing practical and social skills and personal interests.
Expedition : planning, training for and completion of an adventurous journey in the UK (or abroad for the gold award).
As you can see, the Award is a fantastic opportunity for participants to improve their skills, health and wellbeing. It pushes them to be the best they can by encouraging them to learn new skills, be physically more able as well as giving them confidence in themselves and their abilities. It also makes them aware of others and how they can help and give back to their community.
St Thomas More is a licenced organisation. We have been successfully running the scheme for 14 years at the Bronze level. Students in year 9 are expected to take part in the Bronze Award, which then provides students in year 10 with the opportunity to take on the Silver Award. The school values the extra-curricular and realises that there are many benefits to completing the award. The award is one of the most recognised awards beyond academia.